thursday, november 19, 2009

Gosse's 3rd Birthday

Gefeliciteerd!!!

The coolest man (aka "the other labour of love") on the planet has his 3rd birthday today. Gosse got his first lego and even more duplo and on the pic he just blew out the candles on his cake.
Don't forget the free vinyl (see below: nov 17).
tuesday, november 17, 2009

FREE VINYL #103

HOLA HOLA HOLA!!!

Old times coming back richt at cha (and at me). Here's the resurrection of a thing called FREE VINYL. Back in the days (2002 and 2003) we had 101 giveaways of free vinyl. Later on in aug/sept 2005 we had #102, so this one is #103. This time we give away 2 copies of the awesome debut 7" by Silver Lion's 20/20. It's out on Sweet Velvet Vinyl.

What do you need to do in order to stand a chance of getting one of those free copies? EMAIL ME!!! and give me any kind of input regarding this website, the music on it etc. Offcourse make the subject of the email like "Free Vinyl #103". The giveaway ends next week tuesday (november 24).

The 7"-sleeve is pictured to the right and was made by mighty cool Tim Kerr.
monday, november 9, 2009

"Big Deal, What's He Done Lately?"

"Big Deal, What's He Done Lately?" was said by Johnny Ramone about Phil Spector when Spector was going to produce a Ramones album. That album was going to be the by-far-not-so-cool-as-usual-for-the-Ramones "End Of The Century". Thanks for telling me folks!
sunday, november 8, 2009

Thee Vicars = Brilliant Brittish Beat

Damn, that was a great gig. Yesterday "Downstairs At Gibby's" in VERA we had Thee Vicars. These Dirty Water Records recording stars make Brilliant Brittish Beat ranking among the best. All self-written (by lead singer and bassplayer Reverend Mike Whittaker) songs and 2 covers. The Sonics' "Strychnine" and The Kinks "You Really Got Me". Those covers clearly indicate their musical style, but they sure make it into their own thing.
BE SURE TO SEE 'EM LIVE when you can, a truly great band.

And now I have to cope with that nasty "Pain In My Head" (while humming Sinister Six).

Last and least: "Big Deal, What's He Done Lately?" was said by Johnny Ramone about Phil Spector when Spector was going to produce a Ramones album. That album was going to be the by-far-not-so-cool-as-usual-for-the-Ramones "End Of The Century". Thanks for telling me folks!



friday, november 6, 2009

Thee Vicars in VERA

Next livegig I'm gonna see: Thee Vicars in VERA (downstage). These Dirty Water Records recording stars will be trashing the place tomorrow (saturday november 7) 23:00 and onwards. Be there or be stupid. And again brought to you by the IMMACULATE Kiss N Run European Tour Booking, thanks to Robert (again and again and again and again and again and again and again and again and again and again and again and again and again and again and again).
thursday, november 5, 2009

Cococoma's 2nd: "Things Are Not All Right"

Some more on 2009 - record of the year candidates ...

First let's mention another personal candidate. It's Cococoma's "Things Are Not All Right" LP on the coolest imprint of the moment Goner Records. It's the second album by this Chicago threesome. Organ-driven garagerock of the highest level. Their debut record scored a 10 with me, this one does a "mere 9.5" sofar. I take it that'll be a 10 after some more spinning of the record on the recordplayer. In case you wanna know: their debut has been the most played record at home for half a year or so. This new record has something to live up to. So it's a great album, you need it for certain and be sure to especially take notice of the title-track. There's a dutch greeting saying "Alles Goed?" ("All Is Well?"). The honest answer should be NO all the time, since "Things Are Not All Right"! great track! great album! great band!

Mark Van De Ploeg (thnx!) writes:
The Brimstone Howl record is called "Big Deal, What's He Done Lately?" (Evert: are they referring to Michael Jackson?) and it's out on Alive Records.
Another cool record is "In The Valley Of Sickness" by Thomas Function on Fat Possum.
monday, november 2, 2009

Best Records of 2009

OK, here's the "hot 3":

Grunnen Rocks @ myspace.com
Grunnen Rocks @ facebook.com
Grunnen Rocks @ twitter.com

Through email and the use of the "hot 3" you and me chose the sofar best records of 2009. Below there is the current shortlist. If you think there's anything missing / wrong / incomplete / incorrect: go ahead and email me.
saturday, october 31, #2, 2009

Funny Night @ The Office

Yowsa, tonight is a funny night. Need to work from 17:30 till maybe 02:00. And even more funny: I need to be present but if everything is going allright I only need to be present. In other words for the upcoming 5/6/7 hours I'm behind my computer all the time. To the right you can see the team that is working tonight. If you ever felt like emailing me and asking me to update anything on the website: TONIGHT IS THE NIGHT! But when there is anything going wrong I'll be doing somethin' else. Anyway try me and email me.
saturday, october 31, 2009

Box Elders

Allright, here's another candidate for "best record of the year 2009". After the Hex Dispensers LP and the Reigning Sound LP we now have a debut album even.

It's by the new Box Elders. The band is from Omaha, Nebraska. It's two brothers named McIntyre and drummer Dave Goldberg.
Last year they released a debut 7" on Grotto Records (which I don't have) and this year august they released their AWESOME debut LP on Goner. It's entitled "Alice And Friends" and it's an awesome psychedelic collection of melodic lo-fi recorded songs. Best description I can think of is a mix of Black Lips and Guided By Voices. A MUST HAVE indeed!

Oh and btw ... The Drones in VERA were pretty good and cool. Though it's an utter shame that they don't play any songs of that especially great debut CD anymore, a big miss imho.
tuesday, october 27, 2009

The Drones in VERA

Say ooh la la.
Tomorrow (wednesday october 28) for the 3rd time in VERA:
THE DRONES.

This aussie band and me, myself and I go a pretty long way ...
#1
Back in december 2002/january 2003 or something like that I got a mail from Spooky Records' Loki. He emailed me they were going to play @ SXSW in march 2003. That was a nobrainer really. I mean if you are from aussie-land and you're gonna play in Texas you can fly two ways. It's either across the pacific or over Europe. I emailed Loki to suggest they should do the latter and play in VERA. They did, I think they ended up playing in Berlin, London, Amsterdam and Groningen. The VERA gig was really great, march 20-something 2003 it was.
#2
In 2005 they were featured at the 10-year anniversary party of this website, see the poster to the right. Together with The Monroes and E.T. Explore Me they made a very cool evening on sept 22.
#3
Later on I saw'em @ ATP 2007, april (?) in the UK, again a mighty cool show indeed.
#4
Now they're back for the 3rd time in VERA and for my 4th time. Great australian swamprock in the best tradition.

Be sure NOT to miss 'em, I won't either.



monday, october 26, 2009

Kizmiaz Records

HA a cool new (again french) label. It's called Kizmiaz Records and I take it they got their name from the brilliant "Kizmiaz" by the Cramps. That is an amazing track, released as a 7"/12" and on their epic LP "A Date With Elvis". Cause those records and their sleeves are truly great I added them to the page, just for old time's sake basically.

Back to the new label. It's a french label, they are from Nantes and they released a CD and 2 7"es sofar.

KZ 001 is a 7" with 2 acclaimed french one-man bands King Automatic and Bud McMuffin.
KZ 002 is a mighty cool compilation CD in a cardboard box (pic to the right). It's entitled "One Foot In The Grave". Included are 17 one-man bands from all around the globe, a must-have.
KZ 003 is a 7" by Automatic Pussycat. A cooperation between King Automatic's Jeremie Malisz and Sam Agostino of Digger & The Pussycats. On this 7" even the Cramps "What's Inside A Girl" (also on 7"/12" and "A Date With Elvis", but I cannot find a good pic of that mighty cool 7"/12" cover) is done.

Well you know where it's at: GET 'EM ALL!.

And last but not least:
Yannick & David who run the label also have a radioshow called A Date With Elvis.




sunday, october 25, 2009

The Omens

Again a short message today: The Omens are mighty cool indeed. I saw 'm back in 2005 @ SXSW but they still do their thing amazingly well. Their thing being 60s garage done without any punk, rock, rock 'n' roll or blues influence, just "pure garage" in there basically. BTW in another way this also goes for The Okmoniks. I would like more bands to be reminiscent of the (at least my personal) heyday of garage (1992-1995, Estrus label). The Omens made me hum some great classics afterwards, The Mystreated's "You Better Run" and The M 80's' "Seeing Things" to name a few. Cool and good band! A shame though they didn't bring that girl from the picture below ;-)

The Madd from Rotterdam were OK, technically perfect covers of originally 60s tracks. Great vocals added to the mix. I think they played one track by 'emself. They should do that way more. Problem with the band is that it is a little too polished/sweet for my taste. But be sure to check 'em out and especially girls love this band (you can use that to your advantage haha).
tuesday, october 20, 2009

The Omens + The Madd

Today there's an even smaller update, but this one is important.

Next gig I'll attend: Cool The Madd and Mighty The Omens in VERA. They'll be destroying the place next thursday, october 22. Really looking forward to see both of 'em, but ...

Be sure not to miss the opening band, they are AWESOME!!! THE OMENS will start 21:00 so you must be there 21:01 at the last!!! Don't say I didn't tell ya ;-) And in case you don't believe me, to the right there is a little teaser. This is how they looked in LA earlier this year.
monday, october 19, 2009

Human Beinz classic "Nobody But Me"

Today there's a small update.

Heavily inspired by Nobunny I made a full list of Isley Brothers covers. Basically there's only one listed here: "Nobody But Me". This track was a monsterhit in 1968 by Human Beinz, but it is actually from 1962 by the aforementioned Isley Brothers, cool stuff.

BTW The new Nobunny LP will be on acclaimed Goner Records.
sunday, october 18, 2009

Thanks Helene, Billy, Jason, Justin, Marcos & Sammy

Yowsa, what a great night that was in Amsterdam.
For the bands it was the 6th show in 7 days and it also was their 6th country (and 5th european capital) to gig in. This after Spain (Benidorm), Sweden (Stockholm), Norway (Oslo), Germany (Berlin) and Belgium (Brussels).
Anyway for me the club (Pacific Parc) ruled. The DJ (Stickerguy) ruled. Lots of people I know were there and on top of that three great bands (with all-in-all only 6 people in 'em) on stage.

Rock And Roll Adventure Kids opened up:
lots of energy, cool songs, hard to pin 'm down on any style or genre (again), cool cover of the Tamrons' "Wild Man", great show.

Okmoniks followed:
this was the best gig of the night, though that feels like choosing between Claudia, Gisèle and Heidi ;-) great songs (they only forgot my fave "It's Not You"), great show, a girl on stage (sorry Helene), vaguely (in a blur) reminding of the early 90s Estrus and Bay Area-stuff, Estrus being the label that got me to starting this website in the 1st place.

Nobunny closed:
mighty cool and not funny at all (LOL) punk, if I won't see the Hex Dispensers this very likely will turn out to be the best livepunkband (as seen by me) of 2009, Justin is busy with a new album, watch out for that.

BTW #1 if all is well we'll be linking up some footage shot last night somewhere next week, hope that's gonna work out.
BTW #2 will try and list all 6 appearing rockstars on the 3 band-pages asap.
BTW #3 next time any of these 3 plays in Europe I would like to see 'em in VERA.
BTW #4 would be cool if the Wax Museums came along.
BTW #5 say hi to Erik, Nelline, Jasper, Paloma, Jan, Yvonne, RobK, Kevin, Ox and all the rest of you.




friday, october 16, 2009

Countrypages Introduced

Howdy, good news today. Rarely last 3 years there was some new functionality announced on this site. Today there is something new here. Let me introduce to you: countrypages. Per country (all 36 of 'em) you can find bands, labels and people listed on this website. The lists aren't fully done yet, but you can see them in their elementary form ...

Every page has bands first, labels second and people third. If you feel there's bands, labels or people missing or listed with the wrong country: DO NOT HESISTATE and be sure to EMAIL ME asap.
thursday, october 15, 2009

Me = Silly Twat

I won't bother you with too many details, but fact of the matter I am (was actually) a silly twat.

Why? Well there's a number of reasons.

But today I'll admit I'm a silly twat because I managed, about 3 years ago, to have an insanely stupid idea. I added pages to the website for any band on any record listed on the website. When a band didn't have a page before I decided to set them to be american as a default (instead of something like "unknown"). Ever since lots of bands have been listed as coming from the USA while they are actually from somewhere else. In case you feel like emailing me corrections: I'l be happy to receive 'em.

xxx, Evert "Twat" Nijkamp.
wednesday, october 14, 2009

ELPEE Twitters

This is useful for dutch-reading capable locals (Grunnegers) only ...

Local recordstore ELPEE uses Twitter a lot. They do Twitter-only offers, ads, etc, all in dutch but nevertheless cool. And what's more you can also reserve or order records through their Twitter page. Cool indeed, funny, true and very useful, recommended.
tuesday, october 13, 2009

Okmoniks + Nobunny + RnR Adventure Kids in Amsterdam

Haha! It hardly ever happens: me travelling outside the city to go and see a band or even some bands. But next saturday (oct 17) we'll go and enjoy the triple gig of these 3:

It's gonna be @ Pacific Parc, Polonceaukade 23, in Amsterdam. The DJ is gonna be Pete Slovenly Menchetti and you better be there.
monday, october 12, 2009

Accelerators on Stardumb

Newly added: dutch poppy punkrockband Accelerators. Their debut LP/CD rocks my socks off! It comes recommended for fans of Apers, Queers and the like and offcourse everybody who likes decent hooks in punky songs.

And while on the job here's the 7th post in the "this cool label has its discography up-to-date (once) again".

The Accelerators album is released on the outstanding Stardumb imprint. Their discography now is up-to-date once again. Great label!
The album btw is cooperation of Starumb with Squinty Joe Records, a new UK poppunk label. Check 'em out!
saturday, october 10, 2009

Grunnen Rocks

Not that I myself needed any confirmation but last nite showed that Grunnen City severely Rocks.

Lots of people in VERA showed up to see 3 local bands. The announced Mark & The Spies (not from the city) sadly had to cancel (due to illness) and that's why the evening ended up being local bands only.

The party was opened by The Rumblers. Good instro-music all around, as expected from surfbeat-alumni Evert-Jan, Harry and ErikA. No releases yet.

Second were the Gravediggers. They presented their new LP, "El Still Digging", which is their 4th release on vinyl and the first since 1999. Album is and the show was mighty cool. Crampsy-psychobilly with small additions of neue-welle-electro(!) and more. Check 'em out.

Third up were rightfully acclaimed The Monroes. Tarantinopop as they state themselves, I think it's more a more guitar-driven version of Detroit Cobras with a Vanessa Paradis like girl named Josje on guitar and vocals. Their debut CD "Roulette" is out on Tocado Records. Do check this awesome band aswell and offcourse email me about their debut release. That is a really good (!) 7" on my own (do not trust me here) label High Maintenance.
friday, october 9, 2009

The Saints

Seminal punkband The Saints just released a CD with a live-recording. It was recorded at a reunion gig, at The Pig City Festival in Brisbane, 2007. To the right you see a fake sleeve, I couldn't find the correct one on the internet. That probably is caused by this CD being extremely NEW released ;-)
thursday, october 8, 2009

The Monroes

Tomorrow night in VERA finally the debut CD of The Monroes sees the light of day. If you're in town be sure not to miss that. You might even get a free copy of their debut 7". Asking me might do the trick. Getting me a beer too ;-) That 7" was released 4 years ago on my own High Maintenance label. It still is available. To buy (through paypal or by sending cash) or for trades: be sure to email me.
thursday, october 8, 2009

Trouble In River City Up-To-Date

So here's the 6th post in the "this cool label has its discography up-to-date (once) again".

By popular demand:
Trouble In River City's latest 3 releases have been added:

Left Arm 7"
The 75s CDEP
wednesday, october 7, 2009

Yakisakana Records Up-To-Date

And yup here's the 5th post in the "this cool label has its discography up-to-date (once) again" series.

This time it's what I consider the most consistent and therefore coolest label in Europe. It's the acclaimed french trashgarage label Yakisakana Records.

Latest additions to their roster are two 7"es:
Dead Ghosts and
Manic Attracts,
both canadian bands, be sure not to miss these!
tuesday, october 6, 2009

Bootleg Booze Records Up-To-Date

And here's the 4th post in the "this cool label has its discography up-to-date (once) again" series.

Next up is the acclaimed punkrock and swedish rock'n'roll label Bootleg Booze Records. Latest releases are by swedish acclaimed bands, a 7" by neo60s band Dee Rangers and a 10" by punk-rock-n-roll band The Accidents. This label's page aswell is fully updated now, buy 'em all!
BTW for the wiseguys: my guess is as good as yours but I take it a release with catalogue number "Booze 024" does not exist. If anybody has seen it be sure to tell me through email.

And in case you wanna make my day. Get yourself connected to me through my facebook profile. As the attention-needing sucker that I am I'll accept any requests, trust me ;-)
monday, october 5, 2009

Dusty Medical Records Up-To-Date

So here's the third(!) post in the "this cool label has its discography up-to-date (once) again".

By popular demand:
Next up is the acclaimed Wisconsin punk-and-garagerock label Dusty Medical Records. It's page is fully updated now, buy 'em all!
saturday, october 3, 2009

The Test Patterns Rule

HA! Last night a great nite in town. In the acclaimed Crowbar there were 2 punkbands.
Opening up are a fab4 from Grunnnen City called The Junohoos, cool garagepunk!
Main act were The Test Patterns. A cool catchy powerpunky foursome. Three ugly guys from Pittsburgh, Pennsylvania and one pretty girl from Tokyo. Cool self-crafted songs and on top of that some covers added. They even played M.O.T.O.'s "Dance Dance Dance". They actually learned to play that in the car while driving to Grunnen hometown. Be sure to check 'em out on vinyl or if you have to on that darn MySpace. Great club, great bands, great nite!

BTW today I altered the stylesheets for this website a bit. In case you see anything that appears wrong be sure to email me!



friday, october 2, 2009

Frantic City Records Up-To-Date

So here's the second post in the "this cool label has its discography up-to-date (once) again". Next up is the acclaimed french punk-and-garagerock label Frantic City Records.

The first record added is a corelease with Heartbeeps Records. It's a 7" by The Heartbeeps called "A Boring Life With No Guitar".
The second is a 7" by Wild Zeros, "Homesick".
The third one is by the acclaimed dutch (actually grunnen-self) garagepunk band The Beavers. It's called "Silly Girls". Funny thing is that Beavers' (and Waistcoats') Jack Outhuis actually is my neighbour nowadays. His youngest son Renger plays half the week with Gosse, funny but true. Needless to say that 7" in particular is awesome ;-)
The fourth and newest one sofar is a 10"/CD by the Wild Zeros.
tuesday, september 29, 2009

Greg Cartwright Solo Album

Another no-brainer: BUY the Greg Cartwright Solo Live LP on the acclaimed Dusty Medical Records. One man and a guitar can only make equally beautiful music if the man's name is Daniel Johnston. Note: the music doesn't resemble Mr. Johnston, it's just equally beautiful. A truly great album!

And what's more the LP is accompanied with a 7" with Greg and all 4 members of Goodnight Loving.
sunday, september 27, 2009

Barbara Stok Rules!!!

Here's a big thumbs up and congrats to Barbara Stok. This weekend she got, quite deserved I think, the most important national (dutch) prize for comic-artists. Read (in dutch) all about it @ the site of Het Stripschap. And offcourse check her website often, it's at www.barbaraal.nl
thursday, september 24, 2009

TESTING

It's sad this website ran nice and smoothly without ads or 14 years, but ... I need money to be able to buy records ;-(
wednesday, september 16, 2009

Pirate Love in VERA

Let's do a quick update today ...
If you're in Grunnen Rocks City be sure not to miss Pirate Love in VERA, thursday sept 17!

And for the rookies:
VERA re-organised opening times. Back in the old days it was 22:00 opening act, 23:00 main act. NOW it is 21:00 opening act (if any), 22:00 main act. So tomorrow the club will be open at 21:00, since there is no opening act you can enjoy the DJ (not me) til 22:00 and then the band will destroy us dutchies. The doors will close at 22:30, do not say I didn't tell ya ;-)


Entrance is only 5 euro, that's less than 1 euro per norwegian garagerocker performing, so BE THERE or be kinda square.
tuesday, september 15, 2009

Google Search On This Site?

Here's a minor question:
Anybody care for a box like the one below in the menu (that is to the left) of this page?

Email me if your answer is: YES PLEASE!
Thanks to the guys from ELPEE.
monday, september 14, 2009

Pepr Rocks Once Again

Who the hell is Peter Weening? If you don't know the answer ... well ... eh ... your loss. The most influential man in cool dutch music now has his own "blog". Since one of his nicknames is "Pepr" he called it "Pepr's Corner". Sad thing is that it is in dutch, so all you foreigners need to learn our language ;-) A must read!

Pepr publishes his own chartlist since 1986. Every 2 weeks it's printed in the VERAkrant. Here's a selection from the current list:

tw
lw
pp
PePr Pusherman Playlist – 2009 – 26ste

jaargang, week 37
nat
wi
1
4
1
LIGHTNING DUST -

Infinite Light

(Jagjagiwar)

CAN
3
2
1
1
THE DODOS -

Time To Die

(Wichita)

USA
3
3
.
3
HEALTH -

Get Color

(City Slang/V2)

USA
1
4
.
4
REIGNING SOUND -

Love And Curses

(In The Red)

USA
1
5
2
2
JAY REATARD -

Watch Me Fall

(Matador)

USA
3
6
3
3
ARCTIC MONKEYS -

Humbug

(Domino)

UK
3
14
17
14
THE MADD -

The Madd Are Pretty Quick

(Excelsior)

NL
3
17
.
17
YO LA TENGO -

Popular Songs

(Matador/V2)

USA
1
tw=this week/lw=last week/pp=peak position/wi=weeks in/by PePr

As ever a neat list. I myself would have the #1 position shared between Hex Dispensers and Reigning Sound. #3 would have been Tyvek. #4 obviously is the power-hardrocking Vegas Kings and #5 is pretty vacant, as is the rest of my list ;-)




friday, september 11, 2009

Gosse Rocks Once Again

Several people asked how cool Gosse is looking these days. Here's a picture of him. He's wearing my new wireless headphones. Mighty cool little man. He'll turn 3 on november 19. Since august 8 I myself am 40!:-( and the website will turn 14 next week (september 19). Gosse now calls CD's "kleine muziekjes" (little pieces of music) and LP's "grote muziekjes" (big pieces of music), ain't that smart? ;-)

Those wireless headphones come in really handy. You can play the new Reigning Sound LP on your recordplayer while listening to it in the whole house. The kid stays asleep, the neighbours do not complain and all the time (in the bathroom, in bed, in the garden, wherever) you hear the music as loud as your ears will tolerate without hurting too much. The coolest thing is that you need to return to your recordplayer when any side of the record is finished. Best song on that album is "Debris", awesome track.

For the tough rockers: be sure to check aussie Vegas Kings' 3rd album "You'll Never Work In This Town Again", it's on aussie Merenoise Records.
thursday, september 10, 2009

TYVEK's "Debut LP"

And another candidate for record of the year, it's Tyvek's debut album. Tyvek/TVK/Tyevk is a weird, arty and mighty punkband from Detroit, Michigan. They released some cool 7"es already (most notably their recently rereleased debut 7" and the tracks "Needles Drop" and "Frustration Rock" from the 2x7") and now there's this debut album. It's out on excellent Siltbreeze Records.
wednesday, september 9, 2009

HEX DISPENSERS' "WINCHESTER MYSTERY HOUSE"

And here's another candidate for record of the year. In 2007 they had the album of the year. In 2008 they were among the best gigs I saw. Now they're back with their second album. Again rocking as hell and a must for every punkrocker-with-brains on this planet. It's The Hex Dispensers' "Winchester Mystery House". In Europe it's on cool as fuck Alien Snatch Records and in the US it's on cool as fuck Douchemaster Records. It's a must have for sure. And ... what's more: they're added to the "class of september 2009", so any update on their info is welcome as hell.
tuesday, september 8, 2009

"CLASS of SEPTEMBER 2009"

Just updated the lay-out a bit, now you can recognize a "section-heading", neat huh? First up the 5 most important bands of this (and most other) month(s):

When you have anything to ADD to the pages for these 5 bands:
BE SURE TO E-MAIL ME!
Take care messages through sites like MySpace, Facebook, LinkedIn, etc. might be (and usually are) neglected. Good, old-fashioned e-mail is a bit like the vinyl of the computer ;-)
monday, september 7, 2009

REIGNING SOUND's "LOVE and CURSES"

Second post of this month ...

Best record of 2009 so far: Reigning Sound's "Love And Curses". Bought it last week and I think I'll play this constantly at least this coming week, maybe the next month, we'll see. Socalled "critics" might say: hey it's the same band doing the same thing once again. I know, offcourse, but HEY! ... why care if they do it this UTTERLY GOOD? Looking to women never bores either, right? And yes listening to this record is better than looking at beautiful women, NO KIDDING.
sunday, september 6, 2009

GORIES and OBLIVIANS

Wow a new month and a new post in the first week. Might even happen I'll be getting the hang of this once again. For those who worry: DO NOT FEAR, this website will be back, no worries.

OK, here's a a short review of the best music-night(s) of 2009.

July 8: Oblivians opening up for Gories in wonderful VERA, Groningen. Funny day, like an ex-girl after years comes to life the MAGNIFICENT Oblivians were back in the club, I was DJ and life was as cool as it can get. They played a bit long, but who cares, GREAT BAND, thanks to Greg, Eric and Jack once again. After them like an historical impossibility my "personal fave band of all time" stepped out of the pics on the record-sleeves into real life. WOW, what a great show, THANKS Peg, Dan and Mick.

July 11: Gories opening up for Oblivians in cool-as-fuck Paradiso, Amsterdam. Me was DJ, debuting out of my hometown. The Gories were a bit not woken up yet, but cool as fuck anyways. The Oblivians proved they could have been my "personal fave band of all time" aswell. Might be the only thing they should have done for that is breaking up after the first eurotour, with me missing that, and come back after 17 years ;-)

Last thing: VERA was the only club in Europe hosting The Gories both in 1992 and in 2009. And the Oblivians played VERA for the 4th/5th (?) time? Thanks to Ankie!!!





© photo Jeroen Dekker
pictured: where's Peg?
wednesday, august 26, 2009

POPQUIZ 6

Allright first up a small report on VERA's annual popquiz. The 6th in a (straight) row. We had this annual trashquiz august 1 this year, so the report is not quite in time ;-)
This year we had 5 questions. Offcourse like always not much VERA-like or Grunnen Rocks-like music. Everybody's gotta be able to join in and enjoy!
These were the 5 questions (sorry for the Wacko Jacko question, it had to be done):

"music fragments" - "2008-2009" - 4 hits from 2008 and 11 hits from 2009
"trivia question" - "Father And Son" - 10 questions about father and son combo's in popmusic
"music fragments" - "Michael Jackson" - 15 hits with or by MJ, fill in the years
"trivia questions" + 1 music fragments - "We Are (No) Family - 10 questions about bands with "Mother", "Brothers", "Family", etcetera in the bandname
"music fragments" - "Cars" - 15 tracks dedicated to Cars, Car-Brands, Hotrods, etc
Maximumscore was 130 points. Here's the full results:

| position | name of the team | score |
| --- | --- | --- |
| 18 | Apollo 13 = Licht | 51 |
| 17 | The Nortons | 53 |
| 16 | Bintje Spiers | 61 |
| 14 | The Kaiser Monkeys | 67 |
| 14 | Bloembak | 67 |
| 13 | Barman | 69 |
| 12 | Joey And The Tualona's | 70 |
| 11 | Das Ganze Eier Fressen | 75 |
| 10 | Appeltje Eitje | 78 |
| 9 | Karaoke | 84 |
| 8 | Subrouteam | 85 |
| 6 | Lauwersoog | 88 |
| 6 | Fuckin' B | 88 |
| 5 | Jackson Five-O | 91 |
| 4 | Fuckin' A | 94 |
| 3 | De Kleine Tafel | 95 |
| 2 | There Is No I In Team | 98 |
| 1 | De Jeweetwels | 100 |

The winning team had 5 members, all selected around and from the best local recordstore: ELPEE. These 5 had to play the final. For me as compiler and presenter of the quiz a decently organised, non-fully-chaotic final for the first time. Krontjong-Devil Gerhard won, VERA-writer Arnold was 2nd, "a girl !!!" Marieke 3rd, ELPEE's own Jan K 4th and a guy named Daniël 5th.
Next year I'll be trying to think of a way not to have the ELPEE-team win the quiz (again) ;-)



wednesday, july 8, 2009

GORIES + OBLIVIANS ... TODAY!!!

Today the two coolest bands ever (for the deep-down-losers: it's Gories + Oblivians) hitted the streets of Groningen, hometown of me, this website and VERA. 4 more hours and one of 'em will open up another great night in the world's best club. Be there or be ultra-square!
To the right the 2 boxes with all the 7"es that can be played tonight.
"Live-coverage" (if I'm not drunk, tired or busy) through GrunnenRocks @ Twitter.
wednesday, july 1, 2009

GORIES + OBLIVIANS ... 7 days left (and counting down)

Time to get this page a little updated again.
In two days the two coolest bands ever (for the morons: it's Gories + Oblivians) will hit europe. In seven days they'll be playing VERA and me = gonna be DJ, HA. There's something to cheer me up!!!
This gig/eurotour is probably this millenium's best chance to prove yourself a moron. If you miss 'em you must be one for sure.
tuesday, march 10, 2009

Jay Reatard - Playlist

Last friday VERAXXX had Jay Reatard do another great show. Opening up were Rats On Rafts from Rotterdam, not my cup of tea, sorry guys. Anyway here's what Me=DJ played that night: Playlist - Jay Reatard + Rats On Rafts
wednesday, march 4, 2009

And suddenly !!!SMASH!!! (all pages have the new layout)

Allrightee! All pages have the new layout. A big thanks to Hedwig Plomp, her HJ and her ATweeA. Time to do something with music instead of layout again :-) Sadly enough there ain't no money at all to buy records, it's a sad time :-(
tuesday, march 3, 2009 #2

Another mighty annoying error gone!

Yowsa! Another mighty annoying error gone. The main bands-list is fully functional again. Thanks to Daniel Argüello from Spain for e-mailing me about it.
tuesday, march 3, 2009

(Still) Busy with the layout #3

OK, Firefox does have a lot of good things going on, admitted. But even though it's the standard I don't see any reason not to allow stylenames starting with a digit. Anyway to make-up, there's a link behind the (fairly large) image to the right and there you can download Firefox.
sunday, march 1, 2009

(Still) Busy with the layout #2 aka FUCK FIREFOX

Damn that layout thing was killing me. It turns out Firefox cannot handle style/class names starting with a digit instead of a alphabet-character, stupid fuckers! Anyway it is fixed now, pfew. I the meantime I enjoyed Roosbeef's CD a lot. Will go and see here (again) march 13 in Simplon, Groningen. But first we'll have Jay-R march 6 and Cheap Time march 12 in VERA Groningen. Lucky me will be DJ at both shows!
tuesday, february 10, 2009

Busy with the layout #1

Yowsa, busy with the layout. Hope I'll manage to have it up and running by feb 15, maybe feb 20 ...

While working @ the office or @ home I listen 100% of the time to Ottoboy The Oneman Trashband's debut CD. Great album! The best dutch one-man band ever!!!
wednesday, february 4, 2009

The Moronics

The Moronics are danish, no further updates today.
tuesday, february 3, 2009

New Records Listed

Damn the world and especially my life is way too busy once again. The layout of the website stayed the same for almost a week and hardly any records added. A short update today, 3 new records listed:

Ottoboy The Oneman Trashband' Down With The Upbeat CD, dutch one-man band doing great stuff
Roosbeef's Ze Willen Wel Je Hond Aaien Maar Niet Met Je Praten CD, best record of 2009 sofar
Sharp's demo CD-R, a demo-recording by a dutch hardrockband, say hi to Melvin
thursday, january 29, 2009

Anna Ives Fundraising

Here's a sad story. If you can help: DO SO!

In Memphis there's a 4-year old little girl fighting cancer. She needs to have surgery and her parents need real money for that. Her mom is called Amy Ives and her dad is Zac Ives, co-owner of Goner Records. Her name is Anna and you can read all about this sad story at the goner site:

Anna Ives Fundraising

There's a load of people auctioning off lots of stuff on eBay to raise money for Anna. Check those auctions, of rare records for instance, out here:

Anna Ives Auctions

wednesday, january 28, 2009
Bands Overviews #2
There's a workaround for the all bands page. Layout sucks and several other things are missing, but for now this'll do. BTW: Thanks to the people who told me about the problem.

tuesday, january 27, 2009
Bands Overviews
Pfew that layout thing is killing me. Another horrible thing is the overview of all bands page, working on that. In the meantime I regenerated the overview pages for bands0, bandsa, ... til bandsz. Obviously those 27 overview-pages look like shit, but this shit is prettier than yesterdays' ;-) Don't expect anything being done on the info on thispage for some days/a couple of weeks. The layouting and the overview-pages need to be fixed first.

monday, january 26, 2009
Website-Layout
Allright! You noticed the website to have a disturbing, varying layout lately. This will get worse next months, since I'm doing a course on website-layout with Hedwig @ AtweeA.nl. This comes with a big thank you from me to the KPN and an even bigger one to Hedwig "You gotta make choices in your life ;-)" Plomp.
New records added:
sunday, january 18, 2009

Eurosonic and Noorderslag

OK, here's the roundup of 3 days music. Since I'm still recovering I'll be a little short.

Thursday, EuroSonic #1, bands from all over Europe:

Firefox AK - VERA
- swedish band, boring
Them Holy Rollers - Bar Pacific
- good local band, the second part of the show with the organ instead of the 2nd guitar was way better
The Coronas - Muziekschool
- irish band, good vocalist, boring music
Fight Like Apes - VERA
- another irish band, quite funny and good, noisy freaky electrorock or something like that, they even covered mclusky's monsterhit "Lightsabre Cocksucking Blues", mighty tastefull choice IMHO
The Legendary Tiger Man - De Spieghel
- portugese one man band, somehow this sounds like a one man band trying to sound like Suicide, funny but true
The Mojomatics - Huis De Beurs
- the best band of this first night, Grunnen Rocks alumni, great sound, great band, they had severely bad luck on their way to town, the van broke down in Germany and they had to be towed for 100s of kilometers, thumbs up folks!
Friday, EuroSonic #2, bands from all over Europe:

Thozes - Pakhuis
- way too for me fragile dutch indieband
Neimo - VERA
- boring french band
Doctor Scalpel & The Incisions - Koster
- local surfband, really good, a bit MOAM like, nothing wrong with that ;-)
You Me At Six - Vindicat
- boring brittish band
Alain Clark - Grand Theatre
- a nice guy (so I heard) doing horrible soft soul
The Sedan Vault - Huize Maas
- belgian indieband, ok, but a little too pretentious maybe
Ghinzu - Huize Maas
- noisy belgian indieband, a lot of pretense here too, but they had some crafty parts in their too long songs
Sixtyniners - Walrus
- rootsey dutch duo, love 'em, their busy with a new CD, ha!
Universe 217 - Huis De Beurs
- greek gothic doom-band, not my cup of tea, but the singer does a good job
The Beavers - Koster
- the best dutch 60s garageband still going strong
Ottoboy The Oneman Trashband - Pakhuis
- the best dutch one man band, cool show, strange place to play btw
Das Aldi Combo - Walrus
- local instro-quartet, they used to be more 60s/surf, nowadays they're getting more jazzy, an improvement I think
A Brand - Grand Theatre
- horrible brittish band, the worst of the entire festival
Turbo - Vindicat
- boring hardrock from Hungary
Moke - Huize Maas
- the best-known dutch indieband, aka the dutch Oasis, not my thing at all, but somehow they did surprise me a bit, the last song was really good, though I'd rather not say that ;-)
Saturday, Noorderslag, all dutch bands, all in De Oosterpoort:

Das Aldi Combo
- good band, I wonder if they ever listened to The Diplomats Of Solid Sound
The Death Letters
- not my cup tea
I Kissed Charles
- like in sports the ladies ruled this country tonight, great electropop band from Meppel, a single will be out in april/may, album is coming later on
Marike Jager
- nice girl, cool music for listening @ home, but it doesn't do much for me live
King Jack
- not my cup of tea
Seymour Bits
- horrible electrobeat by the DJ of De Jeugd van Tegenwoordig
Miss Montreal
- dutch girl doing rocking songs, I think the song for the TV advertisement is way better
Alain Clark
- brrrrrrrrrrrrrr
Roosbeef
- cool band, sweet girl, great dutch lyrics, cool band, everything ok, I'm gonna buy the CD, even though money is very scarce at our home lately
De Dijk
- They won De Popprijs, OK band, but why should you award a 29 year old band such a prize? Those prizes are meant for upstarts, the jury IMHO was rather erroneous here
De Staat
- hipsters, not my thing, though they might be quite ok, but I was still enjoying Roosbeef (in my head that is)
Daily Bread
- great electroband, I think they should open for Jay Reatard in VERA
De Jeugd van Tegenwoordig
- Ok, they had a huge hit (Watskeburt?), cool track, cool lyrics etc ... but for the rest they are quite boring ...

After this my sore feet/legs/knees and lower back gave up, so I aggain missed zZz and Elle Bandita, damn!




tuesday, january 13, 2009

My Best Of 2008 - Category Albums

Here's my own top 20 of albums for 2008 ...

Forbidden Tigers, Magnetic Problems LP, Dead Beat Records
Obliavanesque in all it's coolness, hands down the best of 2008
Wax Museums, Wax Museums LP, Douchemaster Records
Too intelligent for punk and too dumb for artpunk which perfectly describes what I look for in punk
Cococoma, Cococoma LP, Goner Records
State of the art garagerock, awesome record, especially "Premonition"
Daily Void, The Identification Code 5271- 4984953784-06564 LP, Dead Beat Records
Angry artpunk, after the totally cool Surprise, Surprise 7" a great followup
Bonne Aparte, Bonne Aparte CD, Wham! Wham! Records
Easily the best dutch record of 2008, I want this on vinyl folks
Dutchess & The Duke, "She's The Dutchess, He's The Duke" LP, Hardly Art
Folky songs by Seattle-alumni, a must
Dirtbombs, We Have You Surrounded LP, In The Red
Old love never dies ...
Beavers, Com' On Let's Beav' 10", High School Reject Records
Best current dutch 60sgarage combo with their first 8" or more release
Digger & The Pussycats, Let's Go To Hospital LP, P.Trash Records
Mighty cool stuf from aussie cool-and-sweet superduo
Carbonas, Carbonas LP, Goner Records
State of the art punkrock #1
Cheap Time, Cheap Time LP, In The Red
State of the art punkrock #2
Okmoniks, Party Fever!!! LP, Slovenly Recordings
Great dancing 60s garage
Sic Alps, US EZ LP, Siltbreeze Records
More experimental stuff made it back to my recordplayer in 2008 #1
Brimstone Howl, We Came In Peace LP, Alive Records
Catchy tunes from Nebraska
Nothing People, Anonymous - Media Mail LP, S-S Records
More experimental stuff made it back to my recordplayer in 2008 #2
Black Time, Double Negative LP, In The Red
The best UK band of this millennium
Feeling Of Love, "Petite Tu Es Un Hit" LP, Yakisakana Records
Frenchy garagerockers on the best european label
Surgens, Misadventures Of A Broken Man CD, Fat & Bulbous
Great rootsey country from the UK, should have been on vinyl
Lo-Lite, 12 Picks LP, Red Lounge Records
Dutch bluespunk, still going strong
Eat Skull, Sick To Death LP, Siltbreeze Records
More experimental stuff made it back to my recordplayer in 2008 #3




monday, january 12, 2009

POPPRIJS

At the Noorderslag festival there's a quite big dutch prize for dutch popmusic awarded. It is called de PopPrijs. I hope boring Kane again will not win the award. Make Ilse De Lange or Daniël Lohues win it I'd say ;-) If needed Krezip or De Jeugd van Tegenwoordig would be ok, but it would be really cool if Wende Snijders would win. And regarding Moke: I would say let them prove themselves a bit more ...

My money is on Ilse. But my heart is with Wende (pic to the right).

Here's the history of winners since 1986 ...

BTW1: Thanks to Martin Groenewold @ Dagblad Van Het Noorden
BTW2: congrats to my now 38-year old 'little sister' ...



© www.premiere.nl

sunday, january 11, 2009
EUROSONIC + NOORDERSLAG
Upcoming weekend we have the yearly "Grunnen Does Rock A Bit Fest" ;-)
- Thurday jan 15 it's EuroSonic, day 1
- Friday jan 16 it's EuroSonic, day 2
- Saturday jan 17 it' NoorderSlag
The latter festival is one day only. It always is in january. It nowadays features only dutch bands. It started back in 1986. I live in this city since 1987, so I visted it for the 1st time in 1988. Here's some links to facilitate to prepare me and you for three 8-hour evenings of music ...
VPRO's Luisterpaal, a mighty temporary link, will probably be gone jan 18
Best dutch bands on the festival:

Beavers <-- do NOT miss 'em
I KISSED CHARLES <-- my tip for saturday
zZz <-- do NOT miss 'em

Best non-NL band without a doubt will be:

Mojomatics <-- do NOT miss 'em

Other cool bands:

VERA, coolest club in town, you know it, don't you?

saturday, january 10, 2009
GRUNNEN ROCKS RADIO
... Grunnen Rocks Radio ... should return some day in 2009 ... in one form or the other ... we''ll see about it asap ...

friday, january 9, 2009
YESTERDAY: AN AWESOME DAY
Gosse Rocks!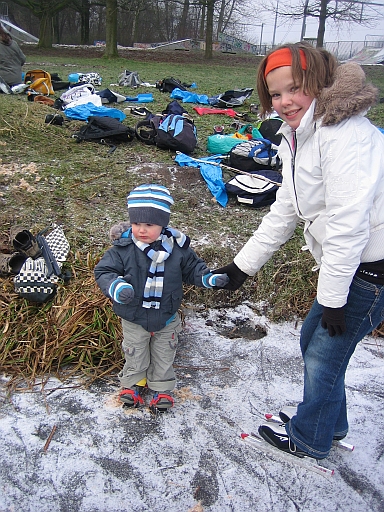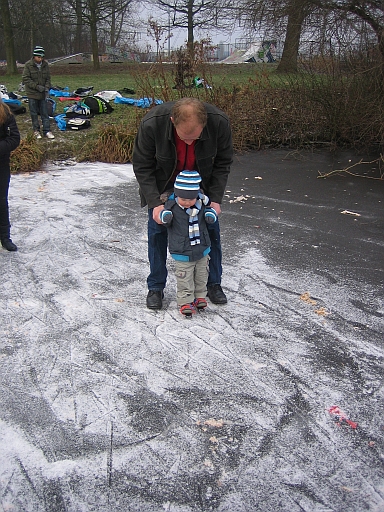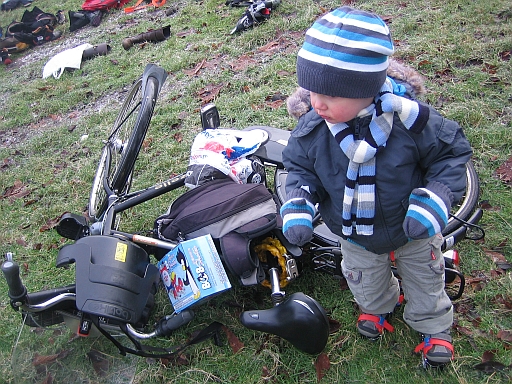 thursday, january 8, 2009
DO NOT FORGET: VERA-POLL 2008
The only good tradition in Evert's little music-world ;-)
"And just to help me remember myself #1":
HA! There's the world's best club back in the traditional way we like it to be. VERA, Grunnen, The Netherlands organises (for the xxxth time) the yearly VERA-poll. To me and all of you: please do not forget to fill it out! The enddate is january 18th. And for all your foreigners: if you saw 1 gig and you need help: email me.

"And just to help me remember myself #2":
Right there the coolest kid in the world for the first time in his life managed to get a CD to play music. The Lucky CD is playing now and actually is a Billie Holiday one. Obviously owned by my girl. I don't own Billie Holiday CD's. Since I only buy countryCD's.
wednesday, january 7, 2009

NEW BOMB TURKS ROCK!!!

TBOFs = Truly Boring Old Farts

TBOF #1: Israelites
TBOF #2: Palestinians

Here's 10 seminal records that got me to where I am today

Talking Heads, Stop Making Sense LP
Claw Boys Claw, debut LP
Antiseen, Psycho Killer 7"
Nirvana, 1st LP, 2nd LP, Smells Like 7"
Rockabilly Psychosis And The Garage Disease, pink vinyl LP
New Bomb Turks, debut LP
Supercharger, debut LP
Dirtbombs, 2nd LP
The Fall, Compilation 2xCD
Daily Void, Surprise Surprise 7"

I Prefer TODAY's Music, it's gonna be NBT I guess ...
or ... or ... The Daily Void again
tuesday, january 6, 2009

I Prefer TODAY's Music

BOF = Boring Old Fart

BOF #1: People who think like: "All (parttime) islamic people are into the jihad."
BOF #2: That "darn financial crisis"
BOF #3: Me, Myself and I
BOF #4: Weert "Mr." Gilders
BOF #5: Nirvana
BOF #6: Blair, Brown, Bush and Balken....
BOF #7: The conflict between Israel and Palestinians, now solve it you people!

CMB = Cool Modern Breeze

I Prefer TODAY's Music, it's gonna be Lefty Frizzell I guess ...
or ... or ... Wax Museums again

monday, january 5, 2009
Statistics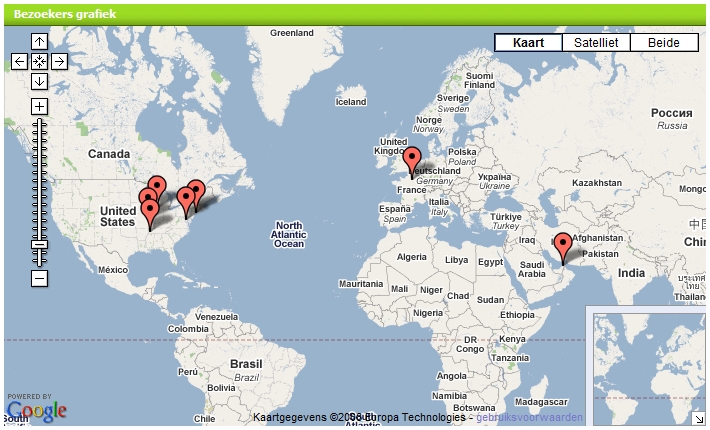 Happily there's still people from Dubai visiting this website.
That kinda thing always makes me wonder which american is in Dubai ;-)




HA!HA!HA! Without me doing much on the website we had the best day of the year only recently.
HA!HA! December 16 got this website and me 2597 visitors, ouch.
HA! See if 2009 will bring us a new all-time high.
The current all-time high is 3949 visitors, that was february 9, 2004.
Don't know what Jeg and Mack were doing that day.
Or what they did the day/night before ...
But about all the day-all-time-high's for 2001-2004 allways were a straight follow-up to what they did.
Unfortunately on their website the link to this one somehow was removed later on.
Happens to all famous people ;-( ... They are forgotten ;-) ;-)
Yesterday we had the nice 1952.
We're recovering from the yearly (14th in a row) holiday-season-dip.




The current prognosis for this bad day (have to go to work for the first time this year) is 2409.
That'd be neat, really neat. BTW all-time highs are always there on tuesday's.
Probably because that's the americans being @home on the first night of the working week.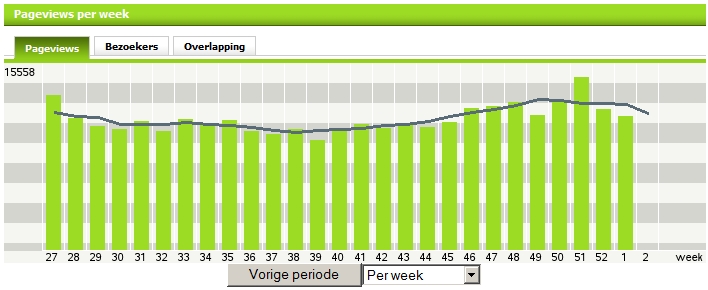 When I see the week-by-week statistics I get reall, really happy.
Even Gosse jumps for joy.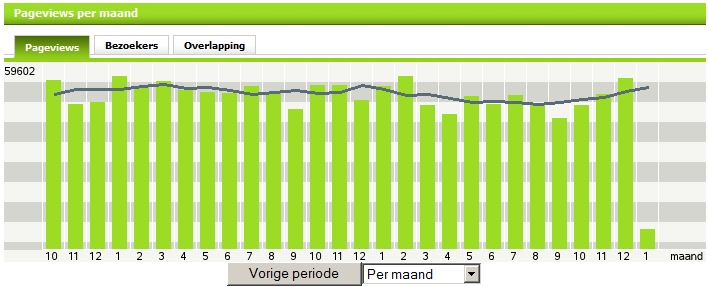 Usually december is very lame.
The month-by-month stats shows that dec 2008 actually almost is the best month of the year.
Now there's a promis for 2009 ...




And here's the last: the year-by-year stats.
Only started the website september 19, 1995.
I used to have a truly lame counter supplied by iglo.cpedu.rug.nl.
This counter started when the site was about 1 year and 6 weeks old: november, 7 1996
What do these stats show?
Because of my girl being pregnant I started a big txt-to-database migration (feb/march 2006).
Gosse was born nov 19, 2006 and his coming clearly had it's (sad) effect for the website.
Since the migration finished (may 2007) we're doing the "no progress is no loss" thingy.
We'll do way better in 2009, trust me and (once again here's a) ...

!!!HAPPY 2009!!!

And please notice that neat animated gif made by the inininfafamous Willem "Snorkel" Kolvoort. Thanks!
sunday, january 4, 2009

Best Gigs

Best gig of 2008: Hex Dispensers
Best gig of 2003: don't know, gotta check the archive
Best gig of 1995: Oblivians, don't know if their first show in VERA was then or later on
Best gig of 1994: JSBX or what else?
Best gig of 1993: Man Or Astroman? or maybe somethin' else
Best gig of the day before yesterday: none :-(
Best gig of yesterday: none ;-(:-(
Best gig of today: none ;-(:-(:-(
Best gig of tomorrow: ?
Best gig ever: Sonic Youth @ Pukkelpop, 1991 (I think)
saturday, january 3, 2009

Best Bands
friday, january 2, 2009

vinyl-head@hotmail.com

I sincerely hope all bad people leave this planet and better asap. For instance a gurlgiy like
vinyl-head@hotmail.com ...
He'd better stay away from the rest of the good people on this planet:-(
You owe me records dude! And you never answered my emails, asshole!!!
cd-dickhead@losers.cut ...
would have been a way better email-address for this (UK?) loser :-)
thursday, january 1, 2009

12593+ BANDS FEST - 12593+ BANDS FEST - 12593+ BANDS FEST

aka ... How to get rid of a T-Shirt and 50!!! singles

!!!HAPPY NEW YEAR!!!


Gosse Berber, Me, Me, Myself and I hope this year will be the best for all of you, xxx, xxx, xxx

For this website the goals for 2009 are set to the highest imaginable.

one million visitors in a year
more updates on this newspage, each day should be the standard
more competitions / giveaways / contests

The latter will be the first we address. This year will be especially happy for 1 of you. That is if winning the coolest contest in this website's history makes you happy ;-) The happy one will be the one and only person to win 1 mighty mighty mighty cool T-Shirt and up to 50 singles, 10"es, LPs, CD's , whate ever I get my hands on! Read all about it below ...

The previous 10001 Bands Fest now is renamed, scheduled and all set to go.
First of all it is called 12593+ BANDS FEST now.
Second of all there is an enddate: april 1, 2009.

Third: there is only 1 (one!) price ...

It will be 50 different (vinyl) singles, 10"es, LPs,. CD's, CD-singles, and at least 1 Tee-Shirt. The Tee will be my spare copy of the original EuroTour 1992 Gories T-Shirt. This is the Tee that Jack White couldn't afford and here's to Jack: "try to find a copy somewhere else, or why not join the 12593+ BANDS FEST contest yourself?". As a small addition there will be 50 releases added. Among those there'll be at least four High Maintenance 7"es. The Monroes and the White Hassle 7"es will be there and the two different covers of the Speedball Baby one aswell. Cause I didn't have enough sleeves there's about 25 photocopied, handnumbered sleeves around, NO KIDDING. The other 46 singles will be added during january, february and march 2009. About 1 each 2 days and all of 'em will be separately mentioned on this mighty-well visited newspage. In case you (as a label or a band) want to give away anything be sure to email me about that on evertatgrunnenrocksdotnl.

How to join this 12593+ BANDS FEST? You can only win by emailing me. Please do email me any of these:

your fave-band of all time
your fave 7"es or LPs of 2008 or any other year
your opinion on anything but the financial crisis or the coolness of Barack O

You can also compete/join the contest by just wishing me a happy 2009.
But please add to the email: your name and the country you live in.
Most important: make the subject of the mail "12593+ BANDS FEST" or anything that reminds me that you join the contest.
And most of all send it to evertatgrunnenrocksdotnl.
You can email more than once, but emailing me more doesn't raise your chances.
If you email me too many times (say more than once per 2 weeks) you might not win ;-)
Same goes for people emailing me files of over 50 kilobytes, I do not need MP3's or other soundfiles. ;-(
Obviously all people that already joined the 10001 fest will have a severe chance of winning this ;-)

Next up: VERA, january 8, The Suicidal Birds + Lushus + Pony Pack